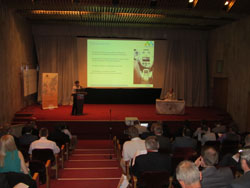 Professional Conferences held the conference "Practical features for the introduction of navigation-information technologies into the modern urban transport" on May 22, 2013, at the All-Russia Exhibition Centre, Moscow.
The main aim of the conference was discussion of topical problems and advanced achievements in the field of the creation, introduction and operation of monitoring and controlling systems for municipal transport. The conference specially focused on the use of satellite navigation technologies and equipment.
At the conference reports were made by representatives of state departments, heads and specialists of transport organizations, representatives of designing and research transport organizations of the Russian Federation, including:
1. Space Team Holding
2. IntelTelecom Soft Ltd.
3. Mediacab Ltd.
4. MADIV
5. MOKHA
6. OJSC "Shtrikh-M"
7. SIDICOM NAVIGATSIYA
8. Omnicomm
9. Noncommercial Partnership "GLONASS-Sibir"
10. FSUE "VNIIFTRI"
11. Meta System Rus
12. Petersburg State University of Means of Communications.