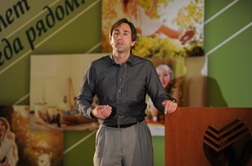 On October 19, 2012, in Moscow with the assistance of Professional Conferences, at the invitation of OJSC "Sberbank" there spoke Erik Weihenmayer, the first-ever blind man who has conquered the highest mountain peaks of the world.
Before the beginning of the lecture it was German Gref, President, Chairman of the Board of Serbank, Russia, who spoke. "Erik Weihenmayer is one of the greatest men in the world in terms of will power, the possibility to achieve all summits in his life and to overcome all obstacles" – German Gref said.
"You mustn't be afraid of yourself, you mustn't doubt yourself – Erik Weihenmayer said – You are possible not to conquer a mountain peak, but you are sure to know something new for yourself". In the hall there were students of Moscow Higher Schools and also clients and employees of Sberbank. The lecture was transmitted over video conference communication at the territorial and branch banks of Sberbank, the audience of the transmission exceeded 14 thousand persons.

The press service of Professional Conferences
phone: +7 (495) 66 324 66