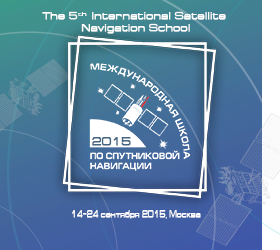 International School on Satellite Navigation
– annual international event, lasting 8-10 days, held in the form of lectures and practical lessons.

The purpose of the school
is to teach attendees on basic fundamentals of building, operating and practical using of GLONASS technologies, methods of solving navigation and timing support to users, using opportunities of the GLONASS data integrated use and the Earth remote sensing. The audience will gain professional and organizational knowledge in this field that can be used in their future activities.
You will receive information about satellite navigation principals, the Earth remote sensing data use and system data condition, learn about real experience of using satellite technologies in transport, fleet, in monitoring engineering constructions, agriculture, geodesy, cadaster.

The School target audience
is perspective specialists of domestic and foreign organizations, using satellite navigation technologies and ERS, introducing systems based on them and providing navigation and geoinformation services to consumers. The competency of running the School incudes the coverage of maximum audience interested in using satellite technologies.

The teaching staff
is formed out of leading specialists of universities and enterprises of the rocket and space industry: TSNIIMASH, Russian Space Systems JSC, GLONASS/GNSS-Forum Association, Moscow Aviation Institute, Moscow State University of Geodesy and Cartography, Moscow Automobile and Road Construction University, RSAU – MAA named after K.A. Timiryazev, a number of commercial organizations.
The program volume is 72 hours. The trainees will receive official advanced training certificates.
Since the School's start in 2011 and to the Fourth School in 2014 185 specialists have been trained from more than ten regions of Russia, as well as from Kazakhstan and Moldova. Most of them were delegated by different ministries, services and agencies of Russian, Republics of Kazakhstan and Moldova.