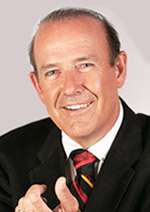 As everybody knows to bring a new customer is 5 times more expensive than to keep the existing one.
The numbers and money confirm the fact that it is much more profitable for a company to keep loyal customers than to spend much money on promotion and advertising, then to arrange single deals with customers and again to invest much money to bring new customers.
The question is how to keep existing customers and to make new customers loyal?
It is clear that we cannot avoid costs here but the costs have to be made in anticipation of prospects.
The guru of customer service, international recognized speaker and author of service quality improvement strategy, John Tschohl, thinks that you should invest in service technologies, customer friendly approach training for your employees. You should invest in your customers' satisfaction from their cooperation with your company and you won't have to 'play the roulette' again and again spending your money on 'one time' customers.
Build relations with your customers, collect stories of your cooperation and become a leader in your industry market.
This and many other issues will be addressed at the seminar by John Tschohl on September 13th, 2013! The live broadcasting from Service Quality Institute, USA, led by the president John Tschohl starts at 1:00 p.m. Moscow time! You don't need to change your work schedule, to go somewhere and to bear any discomfort – the ONLINE format of our event with simultaneous interpreting allows you listening to the world's famous expert on your computer in whatever city of Russia or CIS you are! All you need is to attend the online seminar and then to adopt the most valuable advice of the guru of service. More about the event.