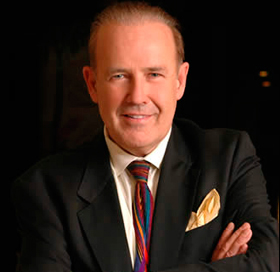 John Tschohl is an adviser in the field of service culture with a world name. Authoritative editions such as Time and Entrepreneur have awarded him the title "Customer Service Guru". John Tschohl is the founder of the service strategy. For 2 years he has been helping companies to achieve the perfect quality of service.

By 1979 when John developed the first-ever training program on customer service, he had already had 9 years experience of leading the trainings on management skills improvement for heads. Daily he had to deal with hundreds people ranging from bank employees and personnel of hotels to employees of airlines and sellers. All of them had a one common thing – the low level of customer service. The company "Service Quality Institute" which today is the world leader in the field of training in service culture started its activity with the first program of Tschohl.
He knows how to keep clients in the epoch of strict competition and price wars, how to create and use the most perfect weapon in this struggle – the perfect service. John will help you to develop service strategy –a plan of actions which will make service culture philosophy of your company, and your clients devoted friends ready to come to you again and again.
The knowledge of the service rules, 35-years experience of the development and introduction of training programs, hundreds report worldwide have made John an expert in service opinion of which heads of leading companies consider. John Tshouhl is a frequent visitor of popular television shows, among which are Good Morning America, CNBC, PBS and USA Today, a character of broadcasts, the author of articles in various editions.
John Tshouhl is the author of five world bestsellers on service. His books translated into 11 languages are successfully sold in more than 40 countries of the world: Achieving Excellence through Customer Service is a bible for organizations who want to learn how and why to implement a service strategy.
The Customer Is Boss: A Practical Guide for Getting What You Paid For and More.
CASHING IN: Make More Money, Get a Promotion, Love Your Job.
E-Service: Speed, Technology and Price Built Around Service.
Loyal For life: How to take Unhappy Customers from Hell to Heaven in 60 Seconds or Less.
The book "The First Class Service as a Competitive Advantage" was published in October, 2006, by the publishing house "Alpina Business Books" and was a hit of sales in 2006-2007. It offers a new staggering material which you can apply immediately in your company.